1.11 - Cultural Sustainability: Cultural Space Performance and Urban Spatial Organization
Project Description
In the actual framework of socio-economic transformations and deep changes in life styles occurred in the last 50 years, the nature of the relationship between culture and the city has undergone significant changes. In particular, there has been a profound re-evaluation by policy makers, business leaders and urban analysts, of the importance of cultural activities in promoting urban revitalisation.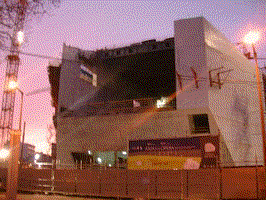 Cities bet in culture (in a broad sense), specially those suffering intense restructuring processes corresponding to a strategy to promote their image, leading to a new noble status, that will fuel their symbolic economy.
Though a considerable theoretical reflection on economic, social and symbolic expectations towards cultural policy exists, the challenge of this research project consists in evaluating the performance of cultural spaces and facilities in urban spatial organisation and (re)construction, in particular in cities with severe ageing and physical degradation.
Research Team
Luisa Mendes Batista
Prof. Paulo Pinho (Supervisor)
Financial Support
Fundação para Ciência e Tecnologia/PRAXIS XXI
(Projecto PRAXIS7PCSH7C7AUR7233796)
Stage of Progress