1.3 - Real Estate Market and Urban Change
Project Description
This research project emphasises the importance of the interrelationships between the planning process and urban economics, as well as the active performance of municipal powers in urban land use regulation, guidance, coordination and control.
It examines the way land use municipal planning influences the Real Estate Market, as a complex inter-related system involving different agents and their strategies, the administrative framework, the urban planning process and municipal engineering, as well as the way the Real Estate Market influences the Municipal Planning process.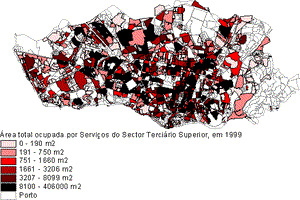 The concepts and methodologies developed are applied to the case study of the office real estate market in the city of Oporto.
Evidence supporting the assumption that it is possible to establish a guided system for the evaluation of the land rent levels for potential uses in the high tertiary sector of the economy is provided.
For this city a system of urban management indicators was developed (physical, land use, location, regulations, municipal initiatives features) and the way they influence the market price levels, demand and costs, as well as the feedback of this demand and price levels upon those urban indicators is analysed.
An integrated analytical tool designed to support municipal decisions was proposed, based upon the development of interrelated models of office market price, demand and costs evaluation. These models may be applied to other similar urban office markets.
Research Team
Emília Malcata Rebelo
Prof. Paulo Correia (IST - supervisor)
Prof. Paulo Pinho (co-supervisor)
Financial Support
Stage of Progress
Publications

PhD Theses
Rebelo, Emília (2003) Mercado Imobiliário e Transformações Urbanas, Tese de Doutoramento. Universidade do Porto