1.4 - Utopic Fragments in the Chaotic City: Closed Condominiums in Greater Oporto
Project Description
The urban landscape of contemporary cities has been disseminated by large residential developments, known as gated communities, which are walled from the rest of the city and privately operated. The postmodern city with its increasing fragmentation in territorial and social terms, its enclosure and privatization of public spaces is the appropriate scenario for the spread/proliferation of these communities. Different influences shap these types of developments, namely Modernist planning, and recent social and cultural changes.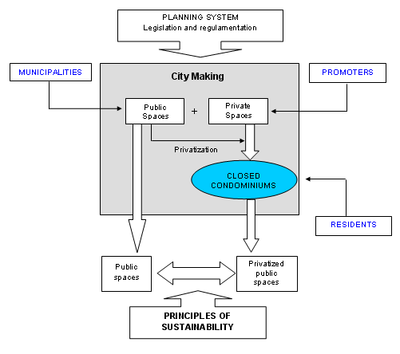 The gated communities of the contemporary city are the result of an overlaying of four types of cities: the utopian city, the sustainable city, the fragmented city and the private city. These issues lead to the selection of some aspects used in the assessment of residential developments. They include subjects, such as: sense of community and sense of place, social and spatial segregation, security, and project promotion.
We consider that gated communities represent fragments or parts of the city which are conceived to escape from the chaotic city. They intend to form a new form of city making considered as a perfect place for living - a kind of utopia.
In Portugal, the growth of gated communities is a recent phenomenon. A large number of projects, called closed condominiums, have been spreading throughout Greater Oporto. Some of these developments are studied according to several indicators defined in order to identify new trends in the city making process. We also analyzed the effect of planning regulations on the morphological characteristics of closed condominiums in the different municipalities of Greater Oporto.
Research Team
Sara Santos
Prof. Paulo Pinho (Supervisor)
Financial Support

Stage of Progress