1.46 - Generation.Mobi – Social Network of Interactive Devices for a New Generation of Urban Mobility
Project Description
Generation.mobi is a Research & Development project that aims at developing and validating a dynamic mobility management system for new generation services. It is based upon the concept of social network of interactive bikes, which are interoperable with the city ecosystem.
As a result, Generation.mobi will lead to the creation of an integrated mobility management system that will include a network of interconnected devices (eg. Bikes) that will explore a wide range of societal challenges as identified within the scope of the European Horizon 2020 strategy. From a commercial point of view it is expected that disruptive new services will be generated aiming at the international urban mobility markets.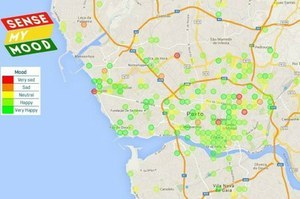 This project involves a consortia of 4 private companies and 1 University partner (FEUP) and is led by CEIIA. Within the University partner and under the leadership of IT (Institute of Telecommunications), CITTA holds a research sub-group focused on Mobility management and Urban Planning. CITTA's role in this project consists in Mobility characterization studies in a number of target cities, which will involve the selection and classification of different dimensions of analysis and mobility profiles allowing among others: characterization of the transport supply and demand, analysis of the constraints of the transport system and mobility plans; analysis of collected data regarding sustainability of the mobility patterns based on the SenseMyCity app (in several application cases). Furthermore, it will also develop base research into the practical usability of this type of information (Big Data) for mobility management and planning practice, exploring ways of improving its added value.
Research Team
CITTA research team
Cecília Silva (coordinator of research sub-group)
Ana Amante
Ana Proença
João Teixeira
Isabel Cunha
Tamara Bicalho
List of other partners
Ibérica
Revolution Answer
CardioID
CEIIA
Instituto Telecomunicações (FEUP)
Financial Support
Fundo Europeu de Desenvolvimento Regional (FEDER) através do Programa Operacional Competitividade e Internacionalização (POCI)
Stage of Progress
Started 5th February 2016
Concluded 31st August 2018
Files related to this project
Report: The Cycling Potential Assessment Method_Report