2.4 - PRECO (Permanent Regional Cooperation) - Development of a Global Data System on Land Use and Transport Integration
Project Description
Description of the work of the FEUP Team in Preco project
Preparation of a Glossary for a set of general terms and concepts, needed to have a common understanding on the basic issues treated by the project.
Development of a Global Data System on land use and transport. A general concept of a data model has been defined and the Data System is structured in a modular way; each module includes a set of indicators for the analysis of land use / transport integration.
Definition of the Basic Handling Procedures.
Analysis of Land Use and Transportation System in the Metropolitan Area of Porto. Description of the spatial organization of the metropolitan layout and of the relationships that exist with the transport system.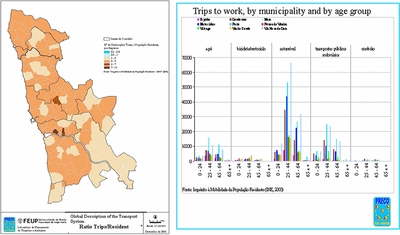 Research Team
Prof. Isabel Breda Vázquez (coord.)
Prof. Álvaro Costa
Paula Ribeiro Ramos
Others principal partners:
CCRN
RMV
Municipality of City of Budapest
Financial Support
Project funded by the European Commission under ECOSOUVERTURE PROGRAMME

Stage of Progress